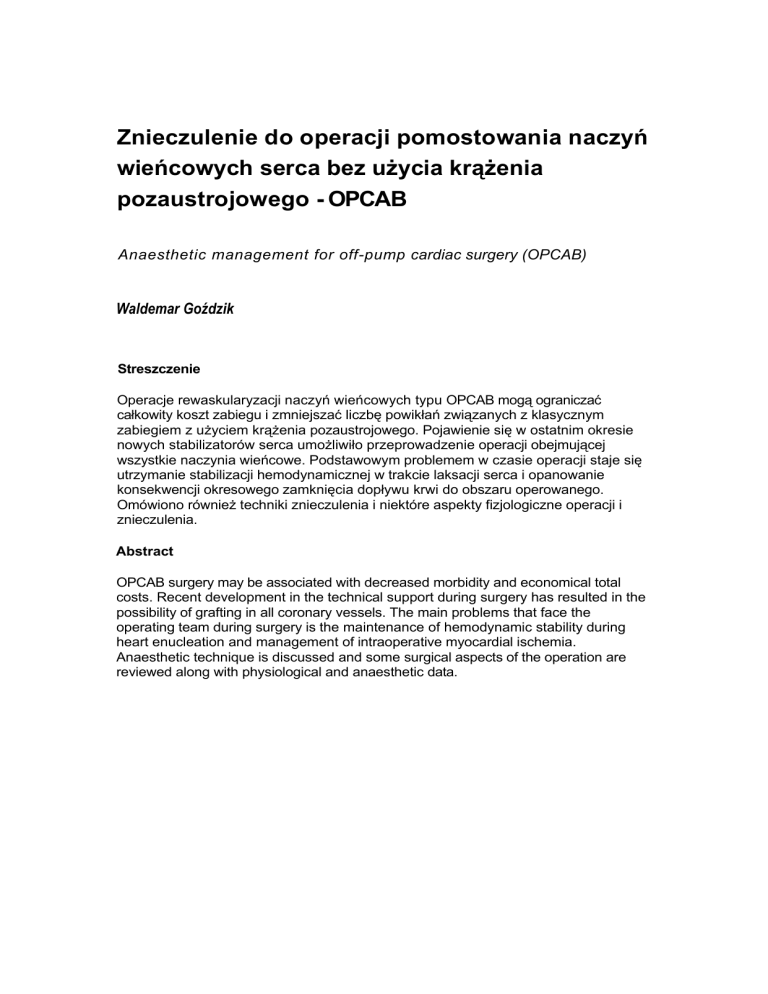 Znieczulenie do operacji pomostowania naczyń
wieńcowych serca bez użycia krążenia
pozaustrojowego - OPCAB
Anaesthetic management for off-pump cardiac surgery (OPCAB)
Waldemar Goździk
Streszczenie
Operacje rewaskularyzacji naczyń wieńcowych typu OPCAB mogą ograniczać
całkowity koszt zabiegu i zmniejszać liczbę powikłań związanych z klasycznym
zabiegiem z użyciem krążenia pozaustrojowego. Pojawienie się w ostatnim okresie
nowych stabilizatorów serca umożliwiło przeprowadzenie operacji obejmującej
wszystkie naczynia wieńcowe. Podstawowym problemem w czasie operacji staje się
utrzymanie stabilizacji hemodynamicznej w trakcie laksacji serca i opanowanie
konsekwencji okresowego zamknięcia dopływu krwi do obszaru operowanego.
Omówiono również techniki znieczulenia i niektóre aspekty fizjologiczne operacji i
znieczulenia.
Abstract
OPCAB surgery may be associated with decreased morbidity and economical total
costs. Recent development in the technical support during surgery has resulted in the
possibility of grafting in all coronary vessels. The main problems that face the
operating team during surgery is the maintenance of hemodynamic stability during
heart enucleation and management of intraoperative myocardial ischemia.
Anaesthetic technique is discussed and some surgical aspects of the operation are
reviewed along with physiological and anaesthetic data.