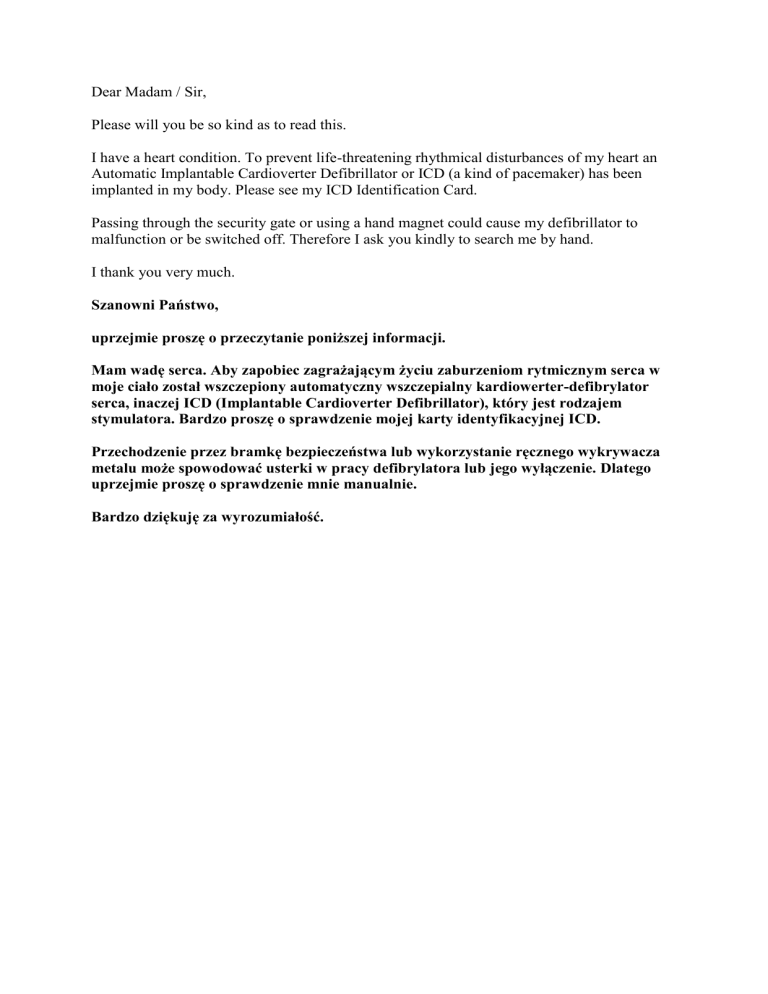 Dear Madam / Sir,
Please will you be so kind as to read this.
I have a heart condition. To prevent life-threatening rhythmical disturbances of my heart an
Automatic Implantable Cardioverter Defibrillator or ICD (a kind of pacemaker) has been
implanted in my body. Please see my ICD Identification Card.
Passing through the security gate or using a hand magnet could cause my defibrillator to
malfunction or be switched off. Therefore I ask you kindly to search me by hand.
I thank you very much.
Szanowni Państwo,
uprzejmie proszę o przeczytanie poniższej informacji.
Mam wadę serca. Aby zapobiec zagrażającym życiu zaburzeniom rytmicznym serca w
moje ciało został wszczepiony automatyczny wszczepialny kardiowerter-defibrylator
serca, inaczej ICD (Implantable Cardioverter Defibrillator), który jest rodzajem
stymulatora. Bardzo proszę o sprawdzenie mojej karty identyfikacyjnej ICD.
Przechodzenie przez bramkę bezpieczeństwa lub wykorzystanie ręcznego wykrywacza
metalu może spowodować usterki w pracy defibrylatora lub jego wyłączenie. Dlatego
uprzejmie proszę o sprawdzenie mnie manualnie.
Bardzo dziękuję za wyrozumiałość.