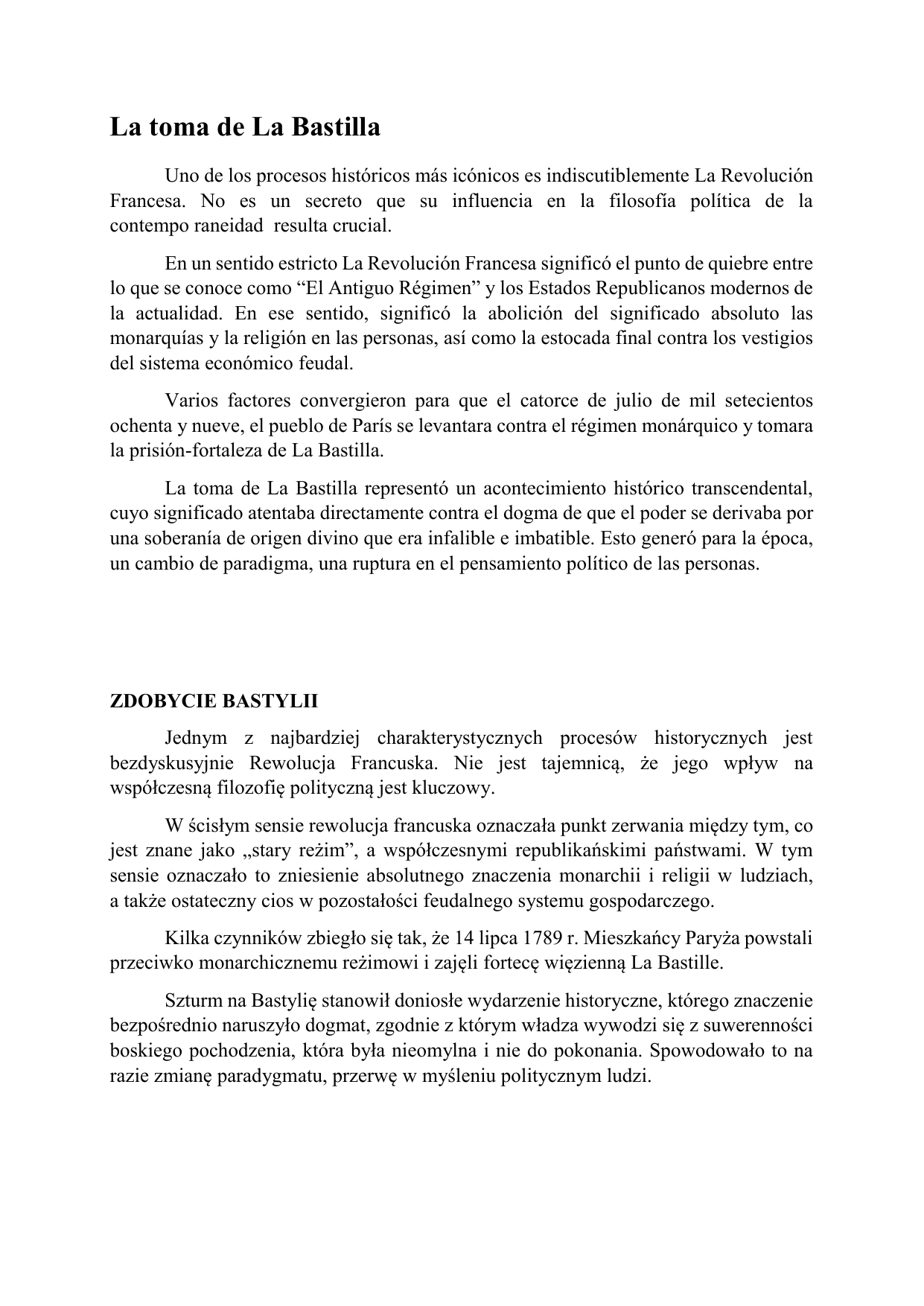 La toma de La Bastilla
Uno de los procesos históricos más icónicos es indiscutiblemente La Revolución
Francesa. No es un secreto que su influencia en la filosofía política de la
contempo raneidad resulta crucial.
En un sentido estricto La Revolución Francesa significó el punto de quiebre entre
lo que se conoce como "El Antiguo Régimen" y los Estados Republicanos modernos de
la actualidad. En ese sentido, significó la abolición del significado absoluto las
monarquías y la religión en las personas, así como la estocada final contra los vestigios
del sistema económico feudal.
Varios factores convergieron para que el catorce de julio de mil setecientos
ochenta y nueve, el pueblo de París se levantara contra el régimen monárquico y tomara
la prisión-fortaleza de La Bastilla.
La toma de La Bastilla representó un acontecimiento histórico transcendental,
cuyo significado atentaba directamente contra el dogma de que el poder se derivaba por
una soberanía de origen divino que era infalible e imbatible. Esto generó para la época,
un cambio de paradigma, una ruptura en el pensamiento político de las personas.
ZDOBYCIE BASTYLII
Jednym z najbardziej charakterystycznych procesów historycznych jest
bezdyskusyjnie Rewolucja Francuska. Nie jest tajemnicą, że jego wpływ na
współczesną filozofię polityczną jest kluczowy.
W ścisłym sensie rewolucja francuska oznaczała punkt zerwania między tym, co
jest znane jako "stary reżim", a współczesnymi republikańskimi państwami. W tym
sensie oznaczało to zniesienie absolutnego znaczenia monarchii i religii w ludziach,
a także ostateczny cios w pozostałości feudalnego systemu gospodarczego.
Kilka czynników zbiegło się tak, że 14 lipca 1789 r. Mieszkańcy Paryża powstali
przeciwko monarchicznemu reżimowi i zajęli fortecę więzienną La Bastille.
Szturm na Bastylię stanowił doniosłe wydarzenie historyczne, którego znaczenie
bezpośrednio naruszyło dogmat, zgodnie z którym władza wywodzi się z suwerenności
boskiego pochodzenia, która była nieomylna i nie do pokonania. Spowodowało to na
razie zmianę paradygmatu, przerwę w myśleniu politycznym ludzi.