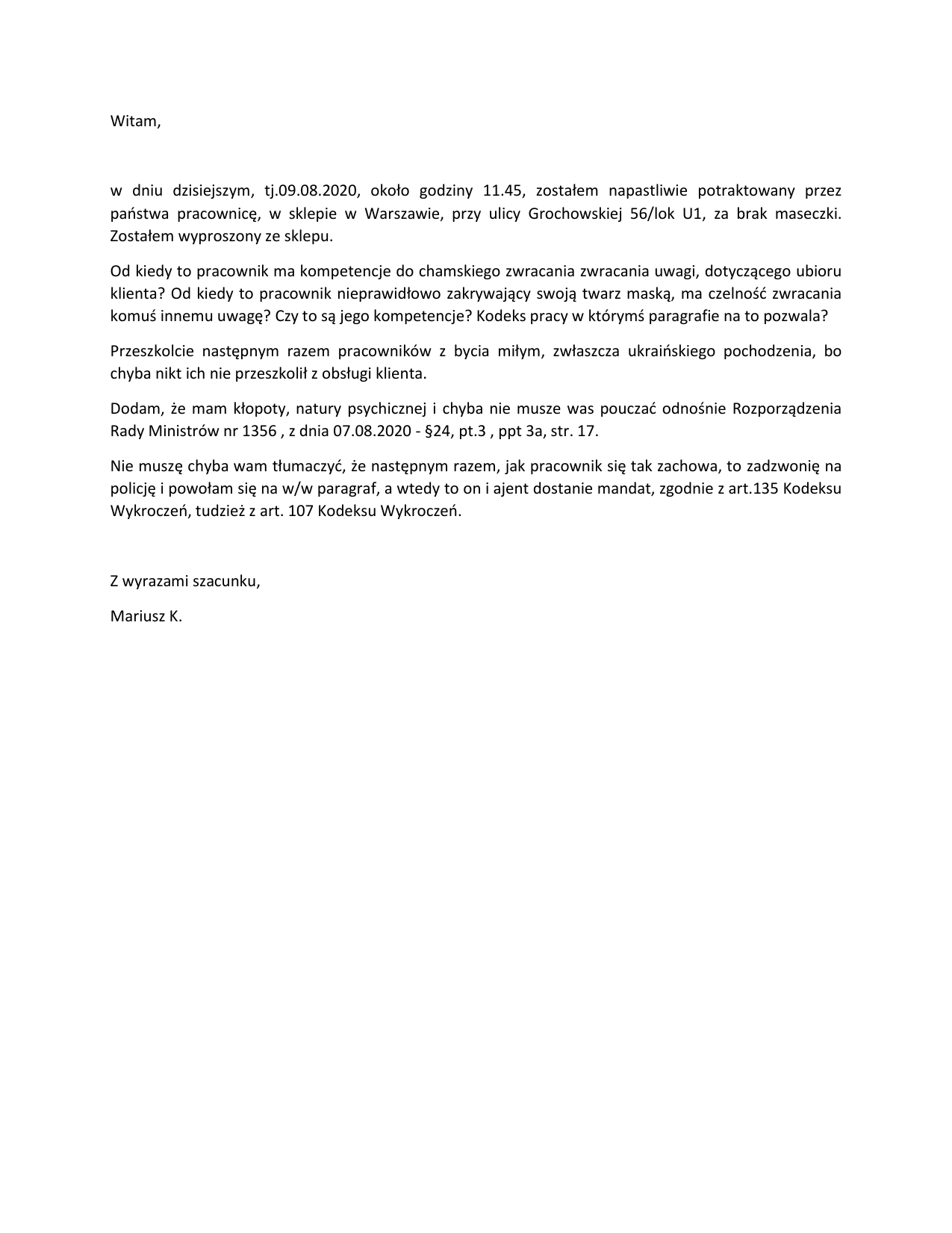 Witam,
w dniu dzisiejszym, tj.09.08.2020, około godziny 11.45, zostałem napastliwie potraktowany przez
państwa pracownicę, w sklepie w Warszawie, przy ulicy Grochowskiej 56/lok U1, za brak maseczki.
Zostałem wyproszony ze sklepu.
Od kiedy to pracownik ma kompetencje do chamskiego zwracania zwracania uwagi, dotyczącego ubioru
klienta? Od kiedy to pracownik nieprawidłowo zakrywający swoją twarz maską, ma czelność zwracania
komuś innemu uwagę? Czy to są jego kompetencje? Kodeks pracy w którymś paragrafie na to pozwala?
Przeszkolcie następnym razem pracowników z bycia miłym, zwłaszcza ukraińskiego pochodzenia, bo
chyba nikt ich nie przeszkolił z obsługi klienta.
Dodam, że mam kłopoty, natury psychicznej i chyba nie musze was pouczać odnośnie Rozporządzenia
Rady Ministrów nr 1356 , z dnia 07.08.2020 - §24, pt.3 , ppt 3a, str. 17.
Nie muszę chyba wam tłumaczyć, że następnym razem, jak pracownik się tak zachowa, to zadzwonię na
policję i powołam się na w/w paragraf, a wtedy to on i ajent dostanie mandat, zgodnie z art.135 Kodeksu
Wykroczeń, tudzież z art. 107 Kodeksu Wykroczeń.
Z wyrazami szacunku,
Mariusz K.