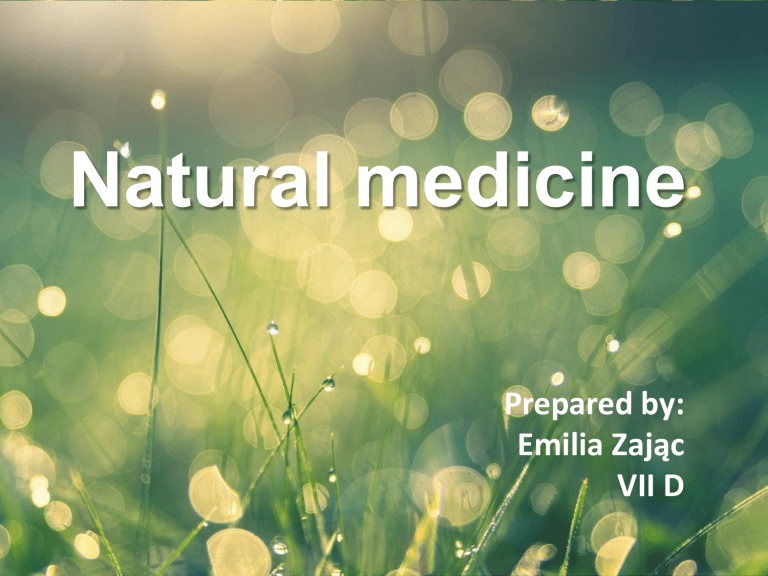 Natural medicine
Prepared by:
Emilia Zając
VII D
OUTLINE
• Definition & history
• Herbalism
• Herbal treatments
• Effects of herbal medicines
• Should herbal medicine continue being used?
• Conclusion
DEFINITIONS
- The term "natural medicine" refers to practices and
knowledge that existed before the arrival
of modern conventional medicine which were used to
promote, maintain and restore health and well-being
- In industrialized countries, adaptations of natural
medicine
are
termed
"Complementary"
or "Alternative"(CAM)
DEFINITIONS
- Worldwide, people developed unique indigenous
healing traditions adapted and defined by their
culture, beliefs and environment, which satisfied the
health needs of communities over centuries.
- In Western culture, alternative medicine is any
healing practice "that does not fall within the realm of
conventional medicine"
- In some instances, it is based on historical or cultural
traditions, rather than a scientific (e.g. evidence-based)
basis
- However critics to this definition exist
HISTORY
- The use of medicinal plants dates at least to the
Paleolithic, approximately 60,000 years ago.
- The earliest known Greek herbals were those of
Diocles of Carystus, written during the 3rd century B.C,
and one by Krateuas from the 1st century B.C.
- In ancient Egypt, herbs are mentioned in Egyptian
Medical papyri, represented in tomb or on rare
occasions found in medical jars.
- Ancient Chinese describe medicinal uses for plants as
early as 3,000 BC.
- Herbs were also common in the medicine of ancient
India, where the principal treatment for diseases.
CHINESE HERBALISM
The History of Chinese Herbalism
• Chinese started using Herbalism
since the stone age
• Natural Chinese medicine
dated back to the period of Huang
Di Nei Jing
• It was dramatically improving
since the development of Chinese
nation
THE PRINCIPLE OF YIN AND YANG
The concept of Yin and Yang is deeply rooted in
Chinese philosophy (Miller, 2003; Watts, 1999).
AYURVEDIC HERBALISM
(AYURVEDA)
Ayurveda is a medical system primarily practiced in
India that has been known for nearly 5000 years.
Concept of Ayurveda
- To promote good health
- Longevity
- Beauty
WESTERN HERBALISM
- is a form of healing art that draw from herbal
traditions of Europe and the Americas
- is based on
- physicians and herbalists clinical experience
and traditional knowledge of medicinal
- pharmocognosy
HERBAL TREATMENTS
The way of herbal treatments
Herbal medicine used of natural products that are
derived from natural source:
- Plants
- Animal and Micro-organism
Type of plants using
Plant regarded as the medicines that have their
own ability to synthesize a wide variety of
chemical compounds.
- Whole plant using
- Herb combining
- Diagnosis
Usage of Animal Blood or Micro
organisms in herbal medicine
Freshly or clear blood can treat the disease:
- Found in animal's blood (ox, cow…etc.)
- Transfusion
POSITIVE EFFECTS OF HERBAL
MEDICINE
• Reduced Risk of side effects
• Low cost
• Widespread availability
NEGTIVE EFFECTS OF HERBAL
MEDICINE
• Inappropriate for many conditions
• Poison risk associated with wild herb
• Lack of regulation
CONCLUSION
• Herbal medicine has been used since 60,000 years ago.
• Three kinds of herbalism: Ayurvedic herbalism,Chinese
herbalism and Western herbalism.
• Herbal medicine is good for curing ill-health, and its
negative effect is usually derived from poor administration
• Herbal medicine should be promoted, but it needs
better law enforcement.